At FRAME Recruitment, we take pride in the success and ambition of our employees. We caught up with Sarah Anderson to hear about her successful recruitment career.
​
When did you embark on your career with FRAME and what enticed you to apply for the role?
My career with FRAME started just over six years ago when my friend who was working here sold me the dream. I was unsure of what I wanted to do at the time. However, the incredible milestones and financial earnings that my friend had already achieved, at such an early age, were extremely appealing to me and I wanted to achieve the same.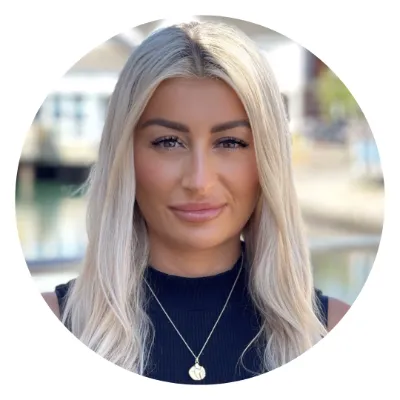 What sold the recruitment consultant position to me was the opportunity for independence in running a recruitment desk like my own business. Along with the commission, bonuses, and company incentives, including days out of which you could only dream of going on. I had clear goals in mind and all these things could help me get there.
The social side was also very attractive. I had just left university and didn't want to go into a job with no real company culture, so joining FRAME seemed like the perfect opportunity for me.
Since joining the business, you have progressed immensely and were the leading consultant for the business this year, also being promoted to Head of Contract, what do you attribute to your success?
As a person, I am super motivated and organised, and I honestly believe these qualities have made me successful at FRAME. By the end of my first year, I had received all the best in-house training. I made mistakes but I learnt from them and moved forward.
After that first year, my career took a turning point. I knew where I needed to put in maximum effort to achieve the desired results and I had dedicated time to building strong and long-lasting client and candidate relationships.
The key is to remain focused, have clear goals and establish yourself in the sector you recruit in. Whether that's establishing yourself as an expert or building strong relationships.
You have built up some fantastic, long-standing relationships with our clients and the architecture and design community. What skills have you leveraged to make these relationships so successful? And is there anything that you have learnt along the way?
Listening to people is an important part of this job, especially if you have not had a job in recruitment before. You need to listen to what your clients and candidates want and what the end goal is.
Also, investigate as much as possible so you understand the role and the company well. Otherwise, you will be back to square one with the search. I have seen success in this area by being consultative and advising from an expert point of view when something is not going to work. Telling people yes all the time, just to please them, will not get you results.
People come to you as an industry market specialist, and they value your opinion. I am direct in my approach, but people appreciate my transparency and honesty.
What do you love most about your role as Head of Contract?
Even though I have been in my role for over six years, making placements and finding candidates great jobs is still the most rewarding and enjoyable aspect of my job. We are money motivated in this job, I am motivated by KPIs, and this motivation helps me achieve success.
What are some non-negotiables that you consistently do each week to ensure a successful quarter in your division?
Putting in the work daily is crucial to getting a high output. Whether that is through high-quality calls to clients or searching for high calibre industry talent.
I know when I come back from holiday my output is always lower and it just shows that when you don't put in the work, it presents itself very quickly. There is no time to be lazy in this job. As I said earlier, you are given the responsibility to manage your desk like it is your own business. With good input comes good output.
What do you enjoy most about working at FRAME and how would you describe the business culture?
I love the social side of the team. Many of my friends are not in typical office jobs, so their initial perception of me working in an office was that it was mundane and boring. However, that couldn't be farther from the truth. We have so much fun and follow a work-hard, play-hard culture. The people are so nice here, we are always going on socials, and we have a good support network.
People want to be here. They work hard and we have an amazing time doing it.
How do you see your role progressing within the business over the next 12 months and do you have any goals you would like to achieve?
I have just had a record-breaking year financially, so I would love to get as close to that number as possible. This will allow me to reach my next promotion to either Executive Consultant or Team Leader.
What advice would you give to someone wanting to progress in their current role and establish a highly successful recruitment career?
You need to be enthusiastic and eager to learn. You also need to have a hunger for success and financial reward, otherwise, you will find it hard to stay motivated through challenging periods.
You need to be resilient and thick-skinned, remembering that not everything will go your way. There will be placements that you think you have made and then they will fall through at the last minute. It is just a part of the job that you need to be willing to deal with and move forward from.
Organisation is important. I plan every single day, both morning and afternoon, anticipating how that is going to impact the latter half of the week. You are working for eight hours each day and you need to utilise each hour efficiently. However, if you work on a contract desk as I do, you need to be flexible because things change very quickly.
You have to be dedicated to understanding the market you operate in and becoming an expert at knowing what your clients need and want. Lastly, you need a good solid network of industry professionals who will add value to your clients' teams.
What skills do you need to build a successful contract division?
You need organisation, speed, the ability to retain a large amount of information and build rapport with people from all walks of life.
All these skills go hand in hand in making sure each day, week, month, and year are a success.
What advice would you give to yourself if you could go back to your first year in recruitment?
Have more confidence in the value that you can bring to your clients. It can seem daunting at first, but you can offer them so much value and insights that they need. Be sure about what you have to say and what you know you can deliver.
If you are interested in a career with FRAME, get in touch by filling out the form below.
​
Architecture and Interior Design Recruitment Market Update
​As we enter the second half of 2023, people strategies have never been more important in the world of architecture and design. At FRAME Recruitment, we strive to keep you updated with the latest e...
Martin Bennell is appointed as Chief Operating Officer
Faststream Recruitment Group, FRAME Recruitment's parent company, is pleased to announce the promotion of Martin Bennell to the position of Chief Operating Officer. Bennell, who has been with the c...
How to create your Employer Value Proposition (EVP)
Listen to this insight​In a candidate-led market, standing out as an employer of choice in a competitive marketplace is probably one of your top priorities right now. How can you differentiate your...
Interviewing Skills in a Talent Short Market Seminar
​FRAME is excited to bring you a session dedicated to Interviewing Skills in a Talent Short Market. This event is exclusive to FRAME's valued clients and one not to be missed.Rachel Farndell, Direc...
Results from the Architecture & Interior Design Salary Survey 2023 Revealed
In a step change from thriving, to surviving and recovering, and embracing a fast-paced comeback in 2022, architecture and interior design practices are faced with new people problems in a changed ...
Architecture and Design Events to attend in 2023
​2023 is set to be one of the greatest years for events taking place across the diverse world of architecture and design. We attended many extraordinary events in 2022, but in 2023, we look forward...
10 Signs you are ready for a new architecture or design job in 2023
​The start of the new year is the perfect time for a fresh start. What better way to kick off the year than by securing a new job? How do you know if you are ready to make the move? As people speci...
Fail to plan, prepare to fail
If you are a practice leader and succession planning is not the top talking point of your people strategies, you are not alone. Yet, in an ever-changing marketplace, I am becoming a strong advocate...
How and why upskilling can improve career growth in Architecture & Interior Design
We live and work in a time where job security no longer comes from being employed, but from being employable. So, how do you remain employable in today's fast-changing architecture and interior des...
How to keep new employees engaged - from job offer to start date
You have spent time attracting and interviewing candidates. You have made a great job offer, and this has been accepted by your favourite candidate. They have signed the contract, handed in their n...
Why do candidates withdraw from job offers?
Let me start by saying that whilst some candidates do withdraw from a job offer, this is not the norm. Changes in the Architecture and Interior Design marketplace have influenced some candidates to...
Managing Director secures Gold in Rome
Martin Bennell, Managing Director of FRAME Recruitment has become the European Champion in the 50m Breaststroke after securing gold at the LEN European Masters Aquatics Championships 2022 on Frida...