At FRAME Recruitment, we take pride in the success and ambition of our employees. We caught up with Elliott Baczala to hear about his successful recruitment career.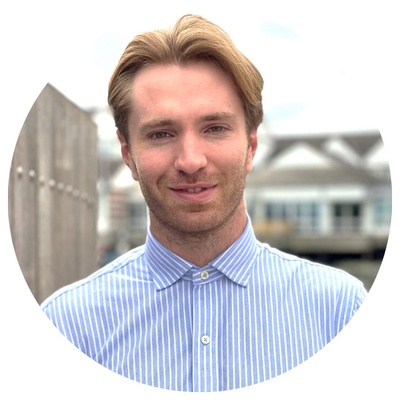 ​
When did you embark on your career with FRAME and what enticed you to apply for the role?
My career with FRAME started in May 2021 when I was looking to take my professional career to the next level. You could say it was still early days in my career but being the ambitious person that I am, I knew I wanted a job that challenged me.
In all honesty, I decided to explore recruitment because I thought it would be a sociable role. I also knew that there was good potential to make lucrative financial earnings, which was a big driving factor for me.
FRAME has a great reputation and I had heard good things, so when I saw there was a job advertised, I didn't hesitate to apply. The central Southampton location of the UK office really appealed to me, and I could see that the offices were modern and exciting. It seemed like the perfect fit.
Since joining the business, you have progressed from a talent specialist to a recruitment consultant – how did you take the leap and what do you attribute to excelling into this position?
Patience has been crucial in taking the step into a 360-recruitment consultant role. My first FRAME role as a talent specialist taught me a lot and gave me an initial insight into how the world of architecture and design recruitment works.
It is important to spend time absorbing the way different people do things to achieve success. This way you will ensure that you have a bank of knowledge behind you.
After eight months of gaining some valuable experience, I was promoted into a recruitment consultant position. This allowed me to take on a new challenge, and push myself further in my career. I wanted to learn more and with the help of our Team Manager, I was able to get there. She trusted me and gave me a lot more responsibility.
Since joining the business, you have made some great relationships within the architecture sector. How did you establish these relationships and what do you think it takes for these to become successful?
Initially, it can be challenging as you are not confident discussing certain subjects due to lack of knowledge. That's why it is so important to dedicate time to learning about what it takes to become an architect, for example.
After several weeks of actively being on the phone you will start to gain knowledge and before you know it you will be an expert in your specialism. Confidence and believing in your abilities will be crucial to this.
The more confident you are, the more your clients will trust you and from there you will build strong advisory relationships based on the discussions you have with them.
How do you stay up to date with what is going on in the industry?
I spend time each week looking at industry articles and publications, especially on LinkedIn. It's a fantastic way to see which projects are being won across the market. You can also get a feel for the practices that are doing particularly well and the practices that have been listed on the AJ100 list.
Nothing beats being on the phone or heading into London for meetings and hearing about updates first hand.
How do you think the training that you have received has helped in your role?
The training has help me tremendously. Rachel Farndell, Director of Talent. She is so enthusiastic about training and goes beyond to deliver training that you just cannot beat.
You always leave one of her training sessions feeling motivated and highly engaged. The training sessions are interactive and push you out of your comfort zone.
At FRAME Recruitment, the business leaders really care about enhancing your knowledge and giving you the ability to be the best recruitment consultant that you can be.
What are the non-negotiables that you consistently do each week to ensure a successful quarter/period in your division?
Spending time talking to my clients and candidates about their current and future needs. It is a highly competitive market now and good talent is hard to attract. People do not want to change jobs and so it is about presenting them with opportunities that they won't want to turn down.
It's non-negotiable for me to actively be building new relationships every week. The industry moves very quickly and its important to know the whose who.
What do you enjoy most about working at FRAME and how would you describe the business culture?
There is no industry or job that would have an atmosphere like we have at FRAME. Everyone is so sociable, friendly, motivating and encouraging. Recruitment is a competitive industry but at FRAME everyone celebrates one another's success.
How do you see your role progressing within the business over the next 12 months and do you have any goals you would like to achieve?
I always want to strive for continuous improvement and to keep on accelerating my career. There are no limits in recruitment, you get out what you put in. For example, promotions and more financial reward.
What advice would you give to someone wanting to progress in their current role and establish a highly successful recruitment career?
The first six months are incredibly challenging and there will be times when you might want to quit. I have seen people give up after four months or even less because they are unable to find the resilience and trust that it will get easier. You just need to give it time, like any job.
Initially, its not just about how well you are doing, it's about how willing you are to learn and implement the training that you are given. If you can show that to your managers and peers, they will trust you and give you fair chances.
What advice would you give to yourself if you could go back to your first six months in recruitment?
Believe in yourself. At the beginning of your recruitment career there is a lot going on and it can be easy to doubt yourself. Especially, learning not only a new job but learning about the sector you are trying to recruit in.
After a while it will all make sense, and you will be well on your way to building a highly successful recruitment career.
If you are interested in a career with FRAME, get in touch by filling out the form below.
​
Architecture and Interior Design Recruitment Market Update
​As we enter the second half of 2023, people strategies have never been more important in the world of architecture and design. At FRAME Recruitment, we strive to keep you updated with the latest e...
Martin Bennell is appointed as Chief Operating Officer
Faststream Recruitment Group, FRAME Recruitment's parent company, is pleased to announce the promotion of Martin Bennell to the position of Chief Operating Officer. Bennell, who has been with the c...
How to create your Employer Value Proposition (EVP)
Listen to this insight​In a candidate-led market, standing out as an employer of choice in a competitive marketplace is probably one of your top priorities right now. How can you differentiate your...
Interviewing Skills in a Talent Short Market Seminar
​FRAME is excited to bring you a session dedicated to Interviewing Skills in a Talent Short Market. This event is exclusive to FRAME's valued clients and one not to be missed.Rachel Farndell, Direc...
Results from the Architecture & Interior Design Salary Survey 2023 Revealed
In a step change from thriving, to surviving and recovering, and embracing a fast-paced comeback in 2022, architecture and interior design practices are faced with new people problems in a changed ...
Architecture and Design Events to attend in 2023
​2023 is set to be one of the greatest years for events taking place across the diverse world of architecture and design. We attended many extraordinary events in 2022, but in 2023, we look forward...
10 Signs you are ready for a new architecture or design job in 2023
​The start of the new year is the perfect time for a fresh start. What better way to kick off the year than by securing a new job? How do you know if you are ready to make the move? As people speci...
Fail to plan, prepare to fail
If you are a practice leader and succession planning is not the top talking point of your people strategies, you are not alone. Yet, in an ever-changing marketplace, I am becoming a strong advocate...
How and why upskilling can improve career growth in Architecture & Interior Design
We live and work in a time where job security no longer comes from being employed, but from being employable. So, how do you remain employable in today's fast-changing architecture and interior des...
How to keep new employees engaged - from job offer to start date
You have spent time attracting and interviewing candidates. You have made a great job offer, and this has been accepted by your favourite candidate. They have signed the contract, handed in their n...
Why do candidates withdraw from job offers?
Let me start by saying that whilst some candidates do withdraw from a job offer, this is not the norm. Changes in the Architecture and Interior Design marketplace have influenced some candidates to...
Managing Director secures Gold in Rome
Martin Bennell, Managing Director of FRAME Recruitment has become the European Champion in the 50m Breaststroke after securing gold at the LEN European Masters Aquatics Championships 2022 on Frida...