At FRAME Recruitment, we take pride in the success and ambition of our employees. We caught up with Ella Quinnen to hear about her successful recruitment career.
​
When did you start your career with FRAME and what attracted you to the role of a recruitment consultant?
My career with FRAME started in April 2021 after a successful interview with the hiring team. I had heard, from many friends that recruitment was a fun environment to work in and the rewards could be very lucrative. I also liked that recruitment is faced-paced and challenging, factors that push me to work harder.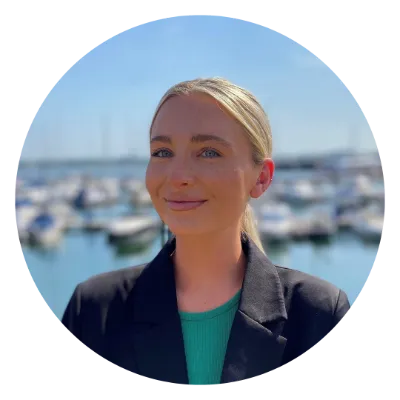 FRAME has a good reputation, and I loved the prospect of working in a friendly team. Along with the opportunity to be in a role that involved regularly travelling to London to meet with clients and architecture professionals.
Was the role what you expected it to be?
It is better than what I thought it would be. As well as the good stories, I had also heard many horror stories about the world of recruitment. However, if you can manage your business relationships well, you can limit what goes wrong and avoid working unreasonable hours.
The team at FRAME also make the job more fun and fulfilling because everyone is so supportive and friendly.
You have progressed immensely in your role and have recently been promoted to the position of lead recruitment consultant, what do you attribute to your success?
Good communication skills have contributed immensely to my success. As a Recruitment Consultant, you need to communicate with clients, candidates, and your internal team members.
If you are not clear in your communication, a lot can go wrong. Whether that is selling a role to a candidate or advising your client on why you think someone may or may not be a good fit for their business.
You need to understand exactly what the client wants and what the candidate desires from your recruitment services.
Self motivation is also a huge driving factor, it is what helps you to meet your targets to push through the tough times to get good outcomes.
What skills do you think make a great recruitment consultant?
As well as good communication skills, sales and negotiation skills are vital when it comes to getting an offer over the line. For example, you need to be able to sell a candidate's skills and experience to your client and negotiate when agreeing to terms of business. Some companies try to reduce our recruitment fees, but you need to reaffirm your expertise and the value you can offer them. I find that once we are working together, they are happy with the cost of the service.
To ensure longevity in your recruitment career, you must be goal orientated, hardworking and able to multitask. It can be incredibly challenging and overwhelming at times; you need to keep your goals in mind and persevere.
Where do you spend most of your time to get results?
I spend a lot of time focusing on my existing client relationships. I want to expand recruitment partnerships and add further value as a recruitment partner. This leads to repeat business and further success.
Have you had any key learnings in your recruitment career?
At the start of my career, I was putting one candidate forward to the client and hoping they would get the job. I quickly learnt that you cannot do this and expect it to be successful. Clients come to you because they need multiple candidates that match specific skill sets and you need to be able to provide this. It can be challenging at first but it's something you need to get right.
Another key learning curve has been the importance of being organised. There can be so much going on at any one time and it's impossible to remember everything. Checklists and to-do lists will be your best friend. You cannot let anything slip because if you do, you risk the entire deal falling through the net. Over time you will find a way of working that is successful for you.
You have many well-established business relationships across the architecture industry, how did you establish these?
Your business relationships are the foundations of your success, and you need to put in the work to ensure that your clients want to come back to you. It's about going above and beyond to make sure you build a rapport. You need to get to know them, their role within the company, and how the company operates. Again, it is coming back to communication and clearly understanding what they want.
What advice would you give to someone finding their recruitment career challenging?
The first year is the most challenging. Like anything new, it can be daunting, and it will take a while to get used to new processes. If you want it to work out, you need to go back to why you wanted a recruitment career to start with.
If you decide it's still what you want to do, be resilient and keep pushing through because it will get easier once you establish yourself in the market. My top tips would be to motivate yourself, get excited, and set personal goals.
When you do encounter challenges, use your support network, and productively work out how you can overcome them.
What are the non-negotiables that you consistently do each week to ensure a successful quarter in your division?
Organising my time around the clients I have strong and well-established relationships with. It is important to put my time into roles that we are exclusively recruiting for, as the client has solely trusted us as their recruitment partner.
I always make it a priority to follow up with clients to get feedback on the candidates I have put forward to them to interview. It's an important part of the process, otherwise, you risk losing out to other employers. Especially in a candidate-driven market, we need to stay on top of our game.
Consistently putting in the time to grow my network is also vital to ensuring success, like they say your network is your net worth. I do this in various ways, be that attending industry events, picking up the phone or engaging on LinkedIn.
What do you enjoy most about your role?
I would have to say the constant excitement of rewarding financial incentives. The rewards are very high, and the social aspect of the role is great.
What do you enjoy most about FRAME and how would you describe the business culture?
There is an extremely motivating, supportive, and social team culture at FRAME. We work hard but we know how to have fun. We are all very ambitious and encourage one another to work hard to achieve our personal and business goals.
If you could go back to your first year in recruitment, what would you do differently?
I would be more confident in myself. I would have picked up the phone more and not been too concerned about getting things wrong. It's too easy to doubt yourself but at the end of the day, the answer will always be no if you don't try.
What advice would you give to someone starting a new career in recruitment?
It will be easier after the first year, it's a lot to take in, it's super hard but use the training you are given. You just need to stick at it and know that you will be so happy that you did.
What are your plans for your role and how do you plan to get there?
My next goal is to get promoted to Principal Recruitment Consultant. I need to continue to make consistent placements, build client relationships and establish myself as a trusted advisor.
​
If you are interested in a career with FRAME, get in touch by filling out the form below.
​
​
Architecture and Interior Design Recruitment Market Update
​As we enter the second half of 2023, people strategies have never been more important in the world of architecture and design. At FRAME Recruitment, we strive to keep you updated with the latest e...
Martin Bennell is appointed as Chief Operating Officer
Faststream Recruitment Group, FRAME Recruitment's parent company, is pleased to announce the promotion of Martin Bennell to the position of Chief Operating Officer. Bennell, who has been with the c...
How to create your Employer Value Proposition (EVP)
Listen to this insight​In a candidate-led market, standing out as an employer of choice in a competitive marketplace is probably one of your top priorities right now. How can you differentiate your...
Interviewing Skills in a Talent Short Market Seminar
​FRAME is excited to bring you a session dedicated to Interviewing Skills in a Talent Short Market. This event is exclusive to FRAME's valued clients and one not to be missed.Rachel Farndell, Direc...
Results from the Architecture & Interior Design Salary Survey 2023 Revealed
In a step change from thriving, to surviving and recovering, and embracing a fast-paced comeback in 2022, architecture and interior design practices are faced with new people problems in a changed ...
Architecture and Design Events to attend in 2023
​2023 is set to be one of the greatest years for events taking place across the diverse world of architecture and design. We attended many extraordinary events in 2022, but in 2023, we look forward...
10 Signs you are ready for a new architecture or design job in 2023
​The start of the new year is the perfect time for a fresh start. What better way to kick off the year than by securing a new job? How do you know if you are ready to make the move? As people speci...
Fail to plan, prepare to fail
If you are a practice leader and succession planning is not the top talking point of your people strategies, you are not alone. Yet, in an ever-changing marketplace, I am becoming a strong advocate...
How and why upskilling can improve career growth in Architecture & Interior Design
We live and work in a time where job security no longer comes from being employed, but from being employable. So, how do you remain employable in today's fast-changing architecture and interior des...
How to keep new employees engaged - from job offer to start date
You have spent time attracting and interviewing candidates. You have made a great job offer, and this has been accepted by your favourite candidate. They have signed the contract, handed in their n...
Why do candidates withdraw from job offers?
Let me start by saying that whilst some candidates do withdraw from a job offer, this is not the norm. Changes in the Architecture and Interior Design marketplace have influenced some candidates to...
Managing Director secures Gold in Rome
Martin Bennell, Managing Director of FRAME Recruitment has become the European Champion in the 50m Breaststroke after securing gold at the LEN European Masters Aquatics Championships 2022 on Frida...