On Thursday 29th of April, the Interior Design, Architecture and Visualisation community gathered online to hear Martin Bennell, Managing Director of FRAME Recruitment and Dr Vanessa Brady OBE, Founder and CEO of the Society of British and International Interior Design deliver an employment and industry update.
For the convenience of our readers, you can now read, watch or listen to this guide:
Or continue reading the full update
This update covers the following areas:
​
Hiring and Recruitment in Interior Design and Architecture
The recovery
Back in September 2020, we shared our predictions on the likely recovery scenarios of the industry following the devastating impact of the COVID-19 pandemic. We hoped for the 'swoosh' or 'tick' shaped recovery scenario, as we immediately saw a quick drop and anticipated a continuous positive return. There was also the threat of a 'W' scenario where there would be some recovery but with another peak in the coronavirus pandemic. The reality has very much been the 'W' shaped recovery scenario and the number of jobs that we have taken on illustrates this perfectly.
​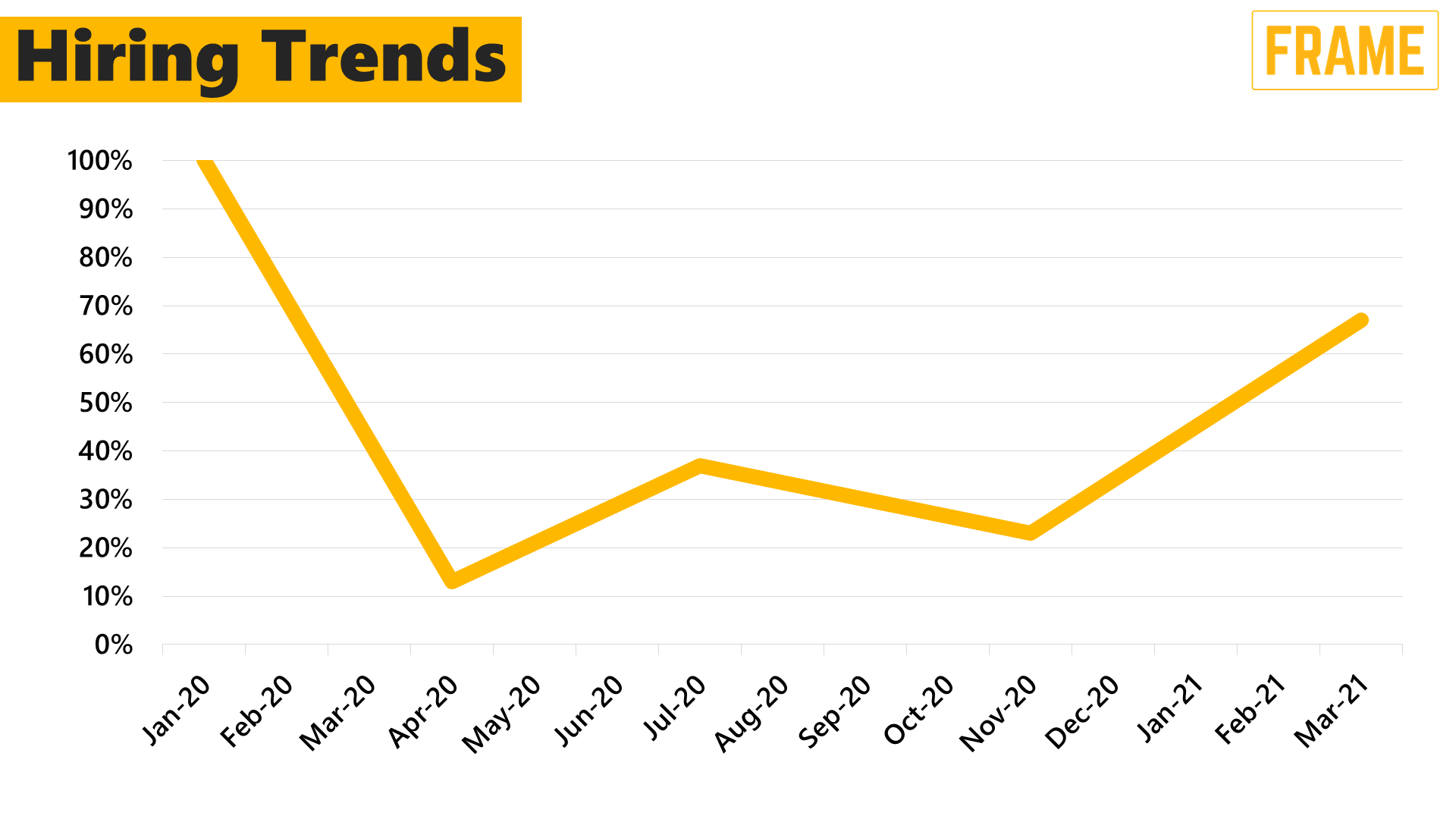 The graph emulates our jobs taken on from January 2020 when we were at our peak, followed by the crash in March and April but with some recovery in the summer months after the lockdown ended. Soon after our September webinar, we moved into the second lockdown of 2020 and the improvements we had seen, did drop back off again. Furlough was lengthened, projects remained on hold and it felt like the previous April/May again.
However, since the start of 2021, positivity is clearly returning. A greater sense of normality in the UK, aided by the easing of lockdown restrictions is bringing back requirements and a return close to pre-COVID levels is now being seen.
​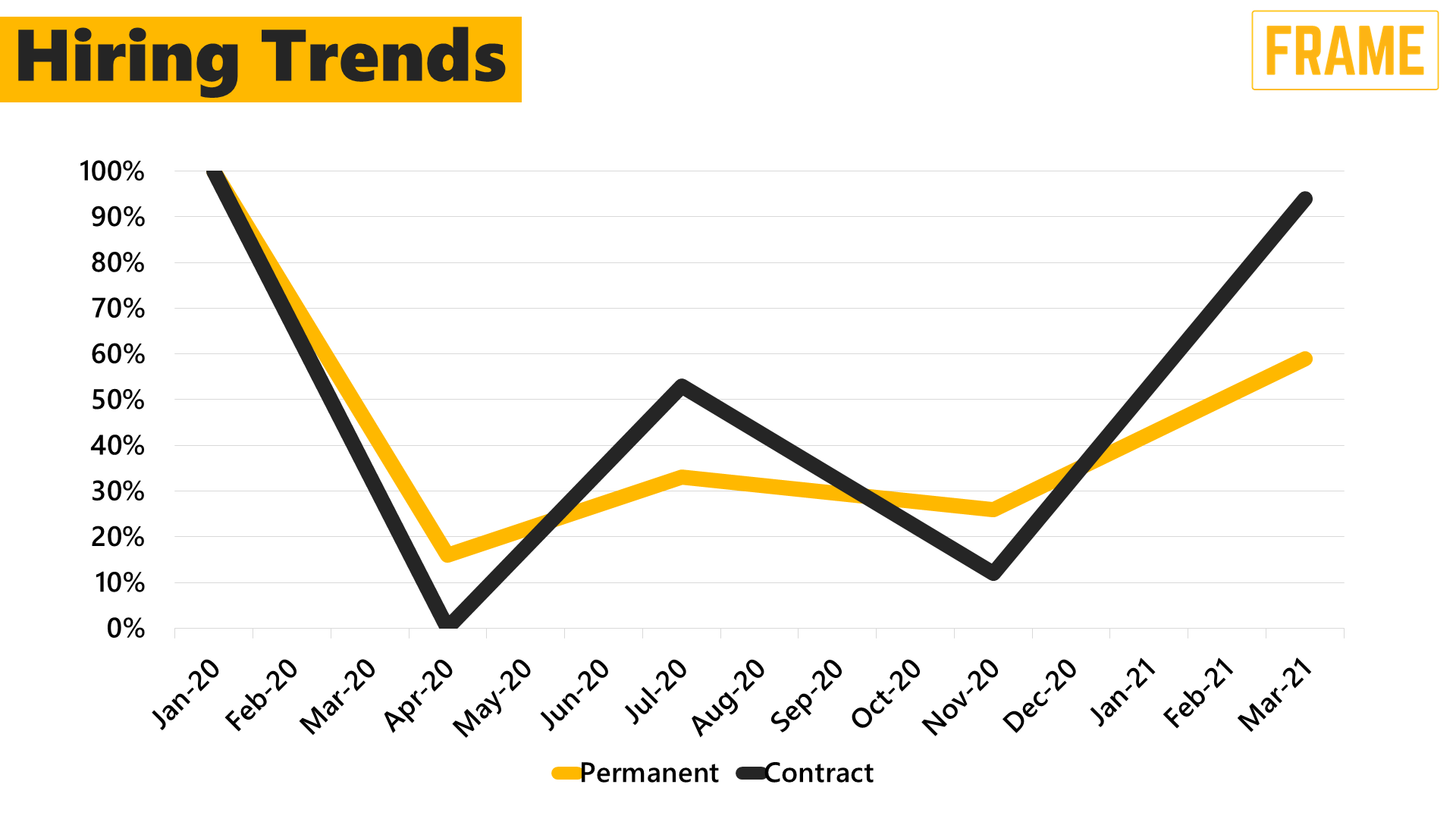 When you separate the permanent and contract roles that we have taken on, the 'W' is even more prominent. We have previously talked about the contract jobs market returning quickly. Whilst we saw it drop significantly in the peaks of the pandemic, we have almost returned to pre-COVID levels and we predict that this will increase even further.
​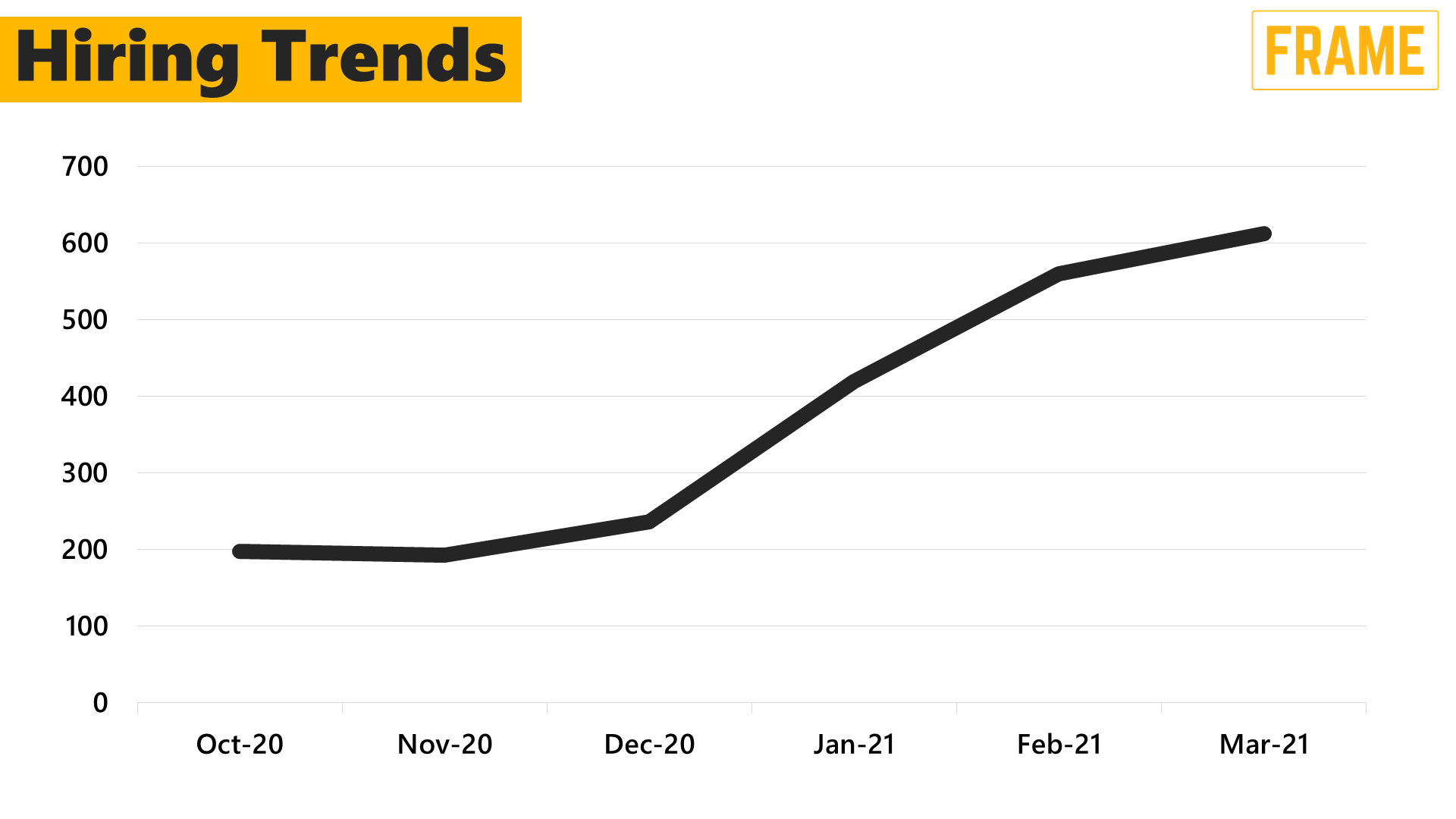 This image highlights all new jobs created in the UK Architecture and Interior Design market during a 6-month period since October 2020. This shows a considerable uptick in new jobs in the market and demonstrates confidence from practices that they are now able to start the re-hiring process. Things are on the up.
​
UK Hotspots
We have previously been asked about regional hubs and trends and the image below highlights RIBA regions where we are seeing the most activity.
​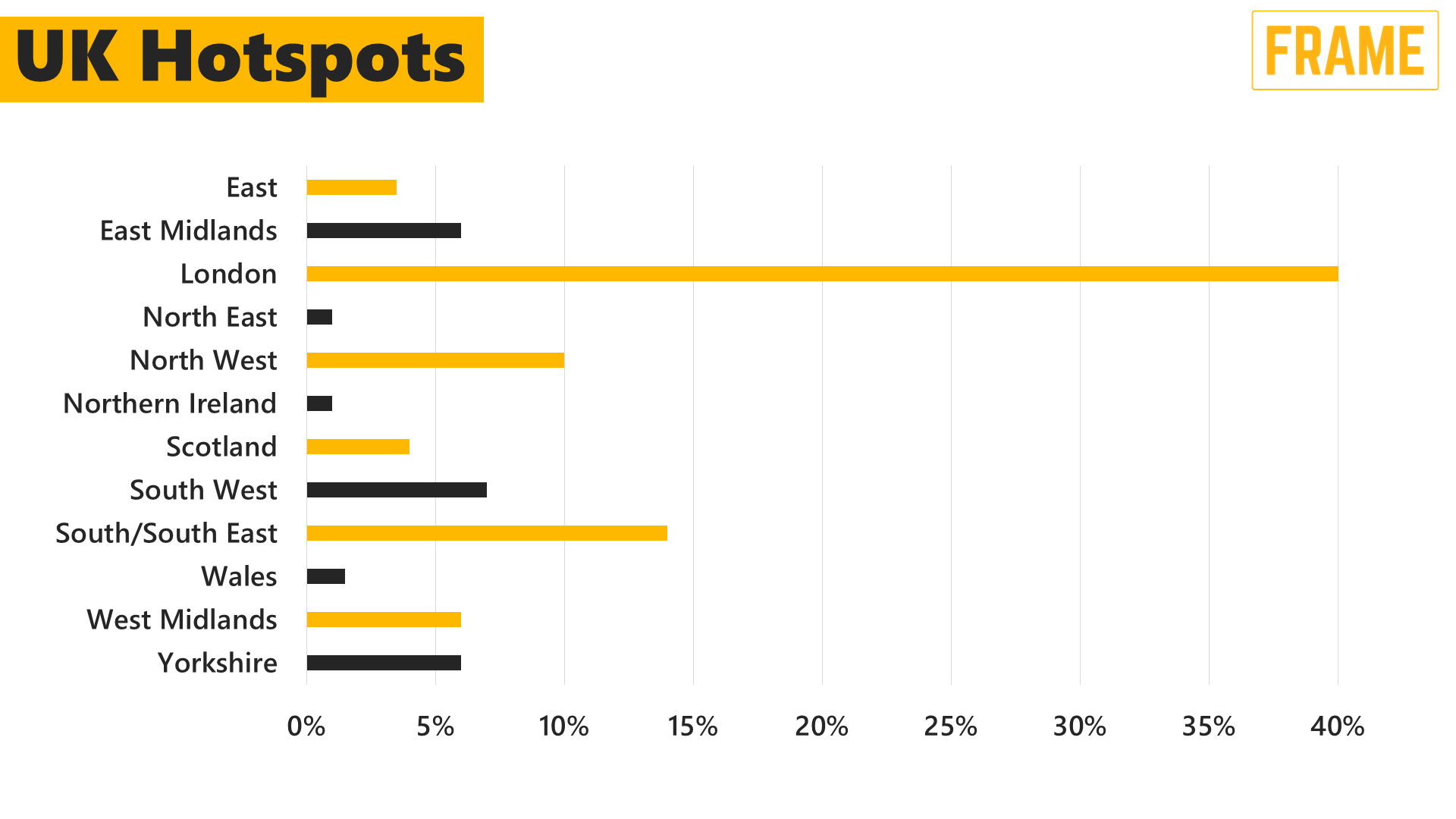 London is leading the way with 40% of the new job vacancies. It is still a major hub, and it will continue to lead the way as the centre of the UK design industry. The South/South East has been busy for us too, with more jobs taken on in Kent and even in Southampton where our office is based. Manchester, Liverpool, Bristol and Cardiff have all noticeably picked up in terms of the jobs market and this fills us with optimism that it is not just London that has opportunities to offer the many who are seeking work.
​
In demand technical skills
Those of you who are actively seeking work will be keen to hear who practices want to hire and what technical skillsets are most desired. There is a huge demand for senior Architects and Project Architects with Revit skills. Practices need people who can hit the ground running – this is just so important right now. As projects are coming off hold, practices simply need the people who can get on and manage these successfully.
Mid-weight FF&E Designers are also much sought after. Many practices are still looking to hire 'unicorns' – only having technician or design skills is not enough right now. Practices want those rare people who can do everything.
​
In demand soft skills
Empathy is becoming more important, particularly when it is linked to more senior and leadership roles. What we have all been through over the last year has illustrated that we now need something a bit different from our leaders and empathy has become the key.
We are hearing demand from practices more and more that they want someone with originality. Practices need fresh ideas, people who can think outside the box and who have a new way of thinking. The world has changed and hiring managers need people who can think of original ideas to make new realities happen.
Communication and collaboration have historically gone hand in hand and many of us would have been very skilled at doing this in an office environment. However, practices need people who can do this in the office but who can also excel at doing this remotely, which we have found can be easier said than done.
Adaptability has been key to managing the effects of organisational fatigue. Enduring months of rapid and constant business change as well as battling concerns about health, the economy and job security have taken their toll on people. Many of those who have succeeded the most through the pandemic at work are those who have successfully adapted, and practices are finding these candidates very attractive.
​
Candidate behaviour
The graph below illustrates the behaviour of candidates over the last year. When the pandemic first hit us in the UK, there was a sudden decrease in applications. There was a noticeable uptick in applications from candidates during the summer when people were concerned about job security, especially those on furlough and this was a period where we started to see more redundancies. The winter period remained flat but coming into the new year, candidates have started applying again, yet with a noticeable difference. These candidates are not just those who were made redundant, these are employed people who are looking for new and better roles. This shows confidence in the market and that candidates no longer have to stay in a safe port.
​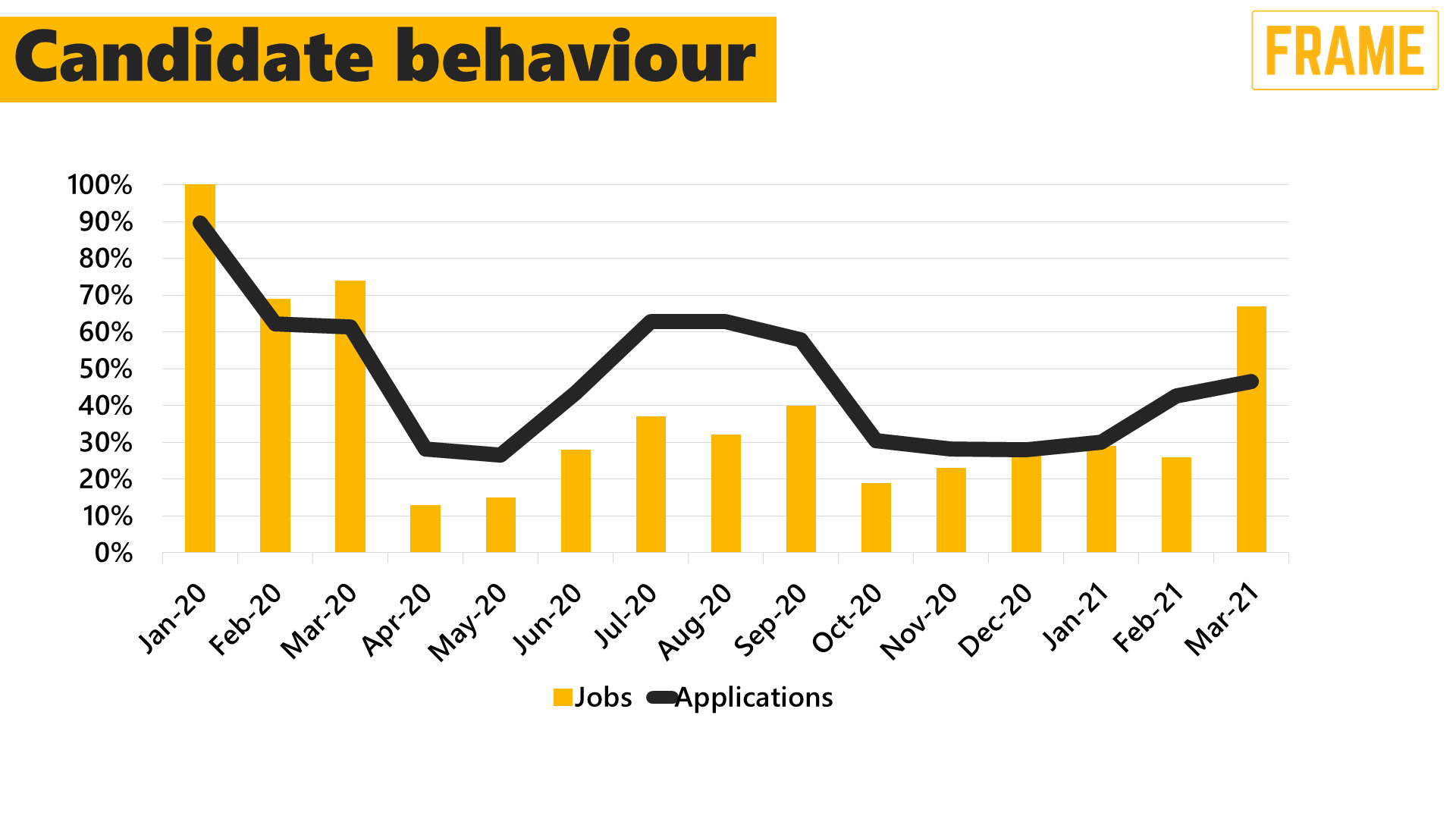 Only three months ago, we talked about the jobs market being employer-led. We are now seeing one of the fastest shifts we have seen to a candidate-led market. Good candidates now have the upper hand, and we are suddenly hearing less in terms of 'low-balling' job offers and time-wasting interviews.
Candidates are demanding new jobs that offer progression – the last 12 months have meant that many good candidates have not seen any career advancement and now they want to see that change in a new role. Practices with good order books and projects coming off hold are also very attractive.
Recruitment processes have had to speed up to meet the demands of a candidate-led market. Practices are having to move more quickly than they once did, fighting off multiple offers to desirable candidates is now imperative.
​
Sectors
Hospitality and hotel design is definitely on the up. Residential continues to be busy - new builds, house renovations, extensions as well as the change in use of commercial buildings into new homes.
Commercial took a downturn in the pandemic, but things are changing. Requirements for how buildings can be used for a new reality include reconfiguration of space to facilitate social distancing, break-out rooms, hot desking, more movement, and effective collaboration.
Healthcare has been busy throughout the pandemic. We have been hearing from practices who are working on interesting projects on how hospitals can be designed or redesigned to facilitate potential pandemics of the future. There is also more focus on hospitals and medical centres that are medically design-led – how do medical professionals utilise space, and what design features could make the space more effective for them?
Aviation and transportation have not picked up so well yet, but we continue to be optimistic that these will soon return as we come out of the pandemic.
​
Working styles
Remote friendly' and 'hybrid working' will be the key terms of 2021. Back in January, we shared the reality of how people were working and their desires for the future of working.
​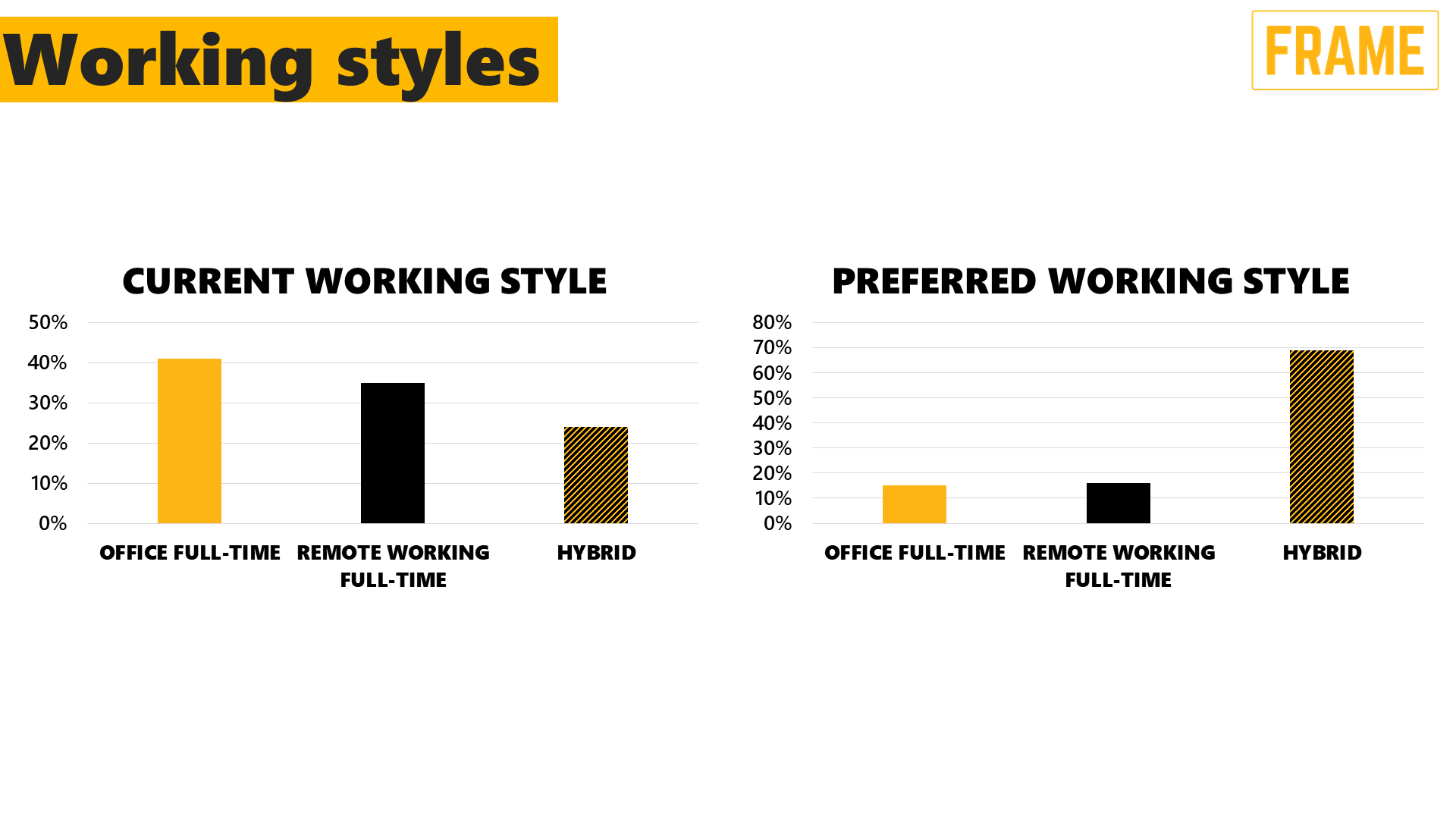 Remote friendly means that practices allow employees to work remotely some of the time but most of their work is done in the physical office. We are certainly seeing more practices trying to make 'remote friendly' a reality. Employers can see the benefit, and candidates and employees alike are demanding more flexibility.
Different styles of leadership have emerged through the pandemic and 'servant' leadership continues to be a trend. Leaders are focussing more on what they can do for their employees and customer rather than what they can do for them. It is about trust, and empowerment – this has become more necessary with remote work when you can't physically see your staff, but we think this is here to stay.
It is a pleasure to share such a positive update with you, and if you would like to discuss any of these trends further, please get in touch.
​
​​Join the conversation with FRAME Recruitment
Follow FRAME Recruitment on LinkedIn, Facebook and Twitter for the very latest news, updates, exclusive insights and regular hot jobs in the architecture and interior design sectors.