Martin Bennell, Managing Director of FRAME Recruitment has become the European Champion in the 50m Breaststroke after securing gold at the LEN European Masters Aquatics Championships 2022 on Friday 2nd September.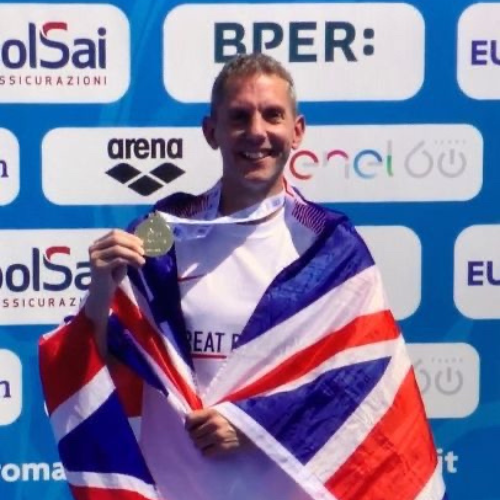 It is not every day that a full-time Managing Director of two global businesses can say that.
Held at the Olympic Pool in Rome, Italy the European Masters Aquatics Championships is the LEN's top event of 2022 and is highly influential in the world of Aquatics.
Representing Team GB in the 45-49 years category, Bennell went into the meet with confidence, following a successful British Championships in June of 2022, where he won six Gold medals from his six races.
If that wasn't enough, Bennell went on to take Rome by storm as he competed in a team relay. Swimming the Breaststroke leg of the 4x50m Mixed Medley Relay 160 years+ (combined), the determined team of swimmers took first place, ahead of a strong German quartet, adding to Bennell's streak of aquatic triumphs.
The Managing Director, part-time Swimmer, also left Rome with two silver medals under his belt in the 100m Breaststroke and 100m Freestyle.
Over 55,000 spectators attended the Championships to see who would bring the medals home.
Back at the FRAME Recruitment Group office, the team joined the official live stream to cheer Bennell on as he did everyone proud.
"I try to organise my training around work and family commitments, which in the recruitment sector is not always easy. I am privileged to travel extensively in my role; I'm often found training in hotel pools/gyms to ensure I keep ticking along whilst I'm away. Becoming European Champion was beyond my expectations, especially following my second hip surgery in 2019" says Martin Bennell, Managing Director.
​Martin Bennell is the Managing Director of FRAME Recruitment.
Martin is a recruitment veteran starting his career in the sector in 2000 and is a fellow of the Recruitment and Employment Confederation.
FRAME Recruitment is a people specialist in the Architecture and Interior Design sectors. Part of the Faststream Recruitment Group, employing over 100 people and with a history spanning from 1999.